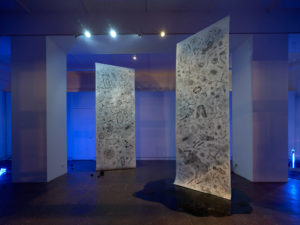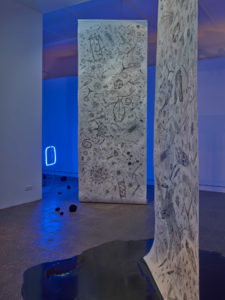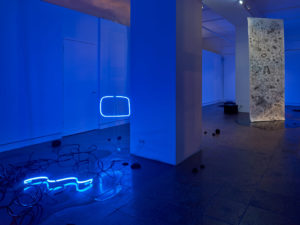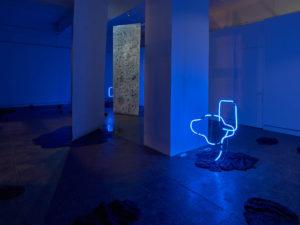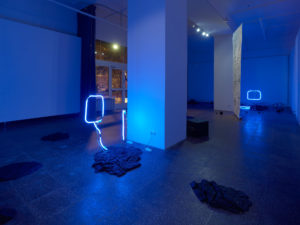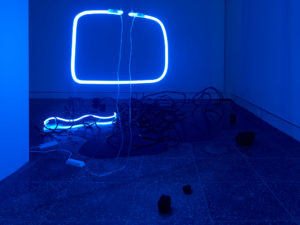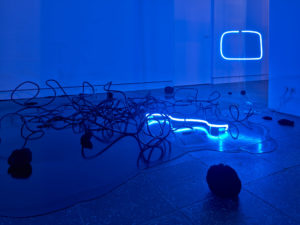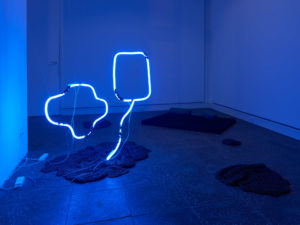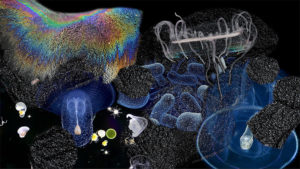 The Heavy Air That Surrounds Us
Anaïs Senli
1 November 2019–12 January 2020
Galerie im Turm
curated by Lena Johanna Reisner
Microscopic beings moving with the ocean currents are generally referred to as plankton. They are scarcely recognisable by the human eye, but the cycle of life cannot be imagined without them. They are the essential foundation of the food chain of marine ecosystems, and are responsible for biochemical processes vital to life, such as photosynthesis.
Cyanobacteria, too, are involved in photosynthesis. More than three billion years ago, they developed as one of the first forms of life in a climate with almost no oxygen. By using photosynthesis to harness light and transforming CO2 into oxygen, they gradually changed the composition of the atmosphere. Through the symbiotic processes of these early forms of bacteria, increasingly complex forms of life began to develop.
Today, meaning since industrialisation and the technological development of fossil fuels, vast quantities of CO2 are again being released. As a consequence, we are experiencing rapid mutation in the global climate, leading us to question life as we know it. At the same time, the majority of oil extracted today came originally from ocean microbes – that is, plankton – and dead biomass, which is broken down and compressed over millions of years, loaded with energy from the sun.
The Heavy Air That Surrounds Us points towards the agency of micro-organisms, rethinking the materiality of our world. Can we imagine a world beyond humanity? The journey to the origin of life takes us to the dimension of geological time, and in doing so, it brings us to contemplate the very fragile nature of our present.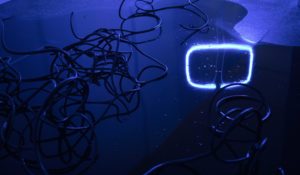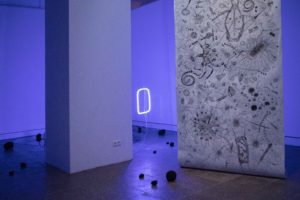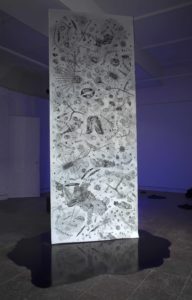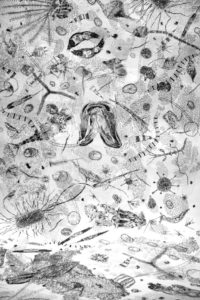 Events
31/10/19 | 7–10 pm
Opening
21/11/19 | 7–9 pm
NO MATTER FUNCTIONS AS A BORDER
Conversation with Anaïs Senli, Regina de Miguel, and Maria Morata, facilitated by Lena Johanna Reisner
The topics addressed in the exhibition The Heavy Air That Surrounds Us will be set forth in a conversation with the artist Anaïs Senli, and two guests, namely Regina de Miguel and Maria Morata. The title No Matter Functions as a Border is a quote taken from Senli's new work – conceived in collaboration with Sonia Fernandez Pan – The Contaminated Origin of Life and points to the permeability of solids, but also to the idea of border as a fiction. This gathering aims to create a conversation around the speculative character of the exhibition in order to put into practice a certain resistance to anthropocentric thought. Departing from plankton, prokaryotic bacteria and crude oil, the talk will seek to provoke contact between some of the surfaces that make up what we understand by the world. How does our understanding of us as humans affects the way we see and interact with the world? Is it possible to think beyond us
ANAÏS SENLI is an artist and independent curator based in Berlin. She studied at the University of Fine Arts in Barcelona, and graduated from the Berlin University of the Arts where she also received a post-graduate diploma as 'Meisterschülerin'. She later on completed the 'Art in Context' MA program Berlin University of the Arts, and attended a program in philosophy by the National Distance Education University (UNED). With a background in painting, she has come to expand to video art and installation, while at the same time engaging in curatorial projects. Throughout the various branches of her practice she explores topics rooted in feminist theory, ecological thought, and science philosophy. Senli has participated in numerous exhibitions in Spain and Germany, in spaces like Hangar (ES), Kunstraum Kreuzberg/Bethanien (DE), Kunsthaus Erfurt (DE), Haus am Lützowplatz/Studiogalerie (DE), Gallery Wedding (DE), and GlogauAir (DE). In Barcelona, she is represented by Sala Parés since 2005 and has participated in Berlin´s Gallery Weekend (DE), the International Contemporary Art Fair SWAB (ES), and the Fair Arts Libris (ES), among others.
REGINA DE MIGUEL is an interdisciplinary artist and filmmaker based in Berlin. In her practice she addresses the speculative character of knowledge, rewriting the supposedly objective and truthful account of science with the help of magic, mythology, poetry and fiction. She proposes a more holistic and interactive vision of the various areas of knowledge in order to tackle the biopolitical problems in the contemporary world. She has had solo shows at _C3A, Córdoba (2018); Capella de Sant Roc, Valls, Tarragona (2016); Centro Cultural Santa Mónica, Barcelona (2016); Kunsthalle Sao Paulo (2014) and Maisterravalbuena, Madrid (2019, 2015, 2012) among others. Her work was recently included in group shows and programmes at for example CIAJG Guimaraes, Portugal; Centre Pompidou, Málaga; Momentum 10 Bienal, Moss, Noruega (all 2019); Cultural Institute of León, Guanajuato, México; Cultural Institute of León, Guanajuato, México; Kunstraum Kreuzberg/Bethanien; Haus der Kulturen der Welt, Berlin; and Centro Centro, Madrid (all 2018).
MARIA MORATA is an independent curator, researcher and lecturer. Expert in experimental and avant-garde film, her current research focusses on the relationship of media technology with human and non-human agents in the critique of anthropocentrism. She has curated projects for Arsenal – Institute for Film und Videoart, Berlin; CCCB, MACBA and Centre Ars Santa Mónica, Barcelona; Intermediae Matadero and La Casa Encendida, Madrid; Sterischer Herbst, Graz; Impakt Center, Utrecht; and Centre del Carme Cultura Contemporània, Valencia. She has been working as a guest lecturer at universities and art schools in film, new media and fine arts since 2007 (Berlin University of the Arts, Goethe University Frankfurt, University of Potsdam among others) and has published numerous texts for catalogues and specialized publications. Based in Berlin she forms part of the selection commitee for short films in the Berlinale – International Film Festival Berlin (since 2009), the Kassel Documentary Film and Video Festival, as well as the Dok Leipzig Film Festival.