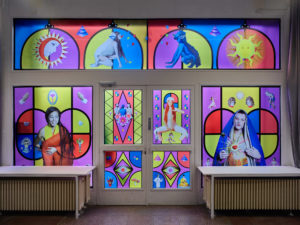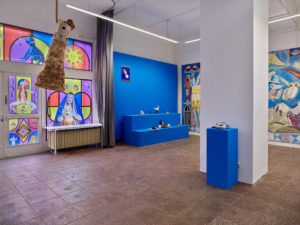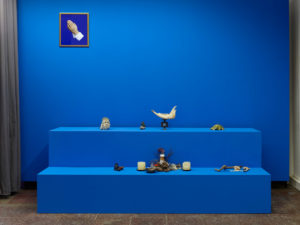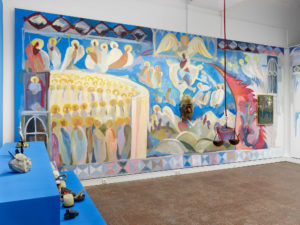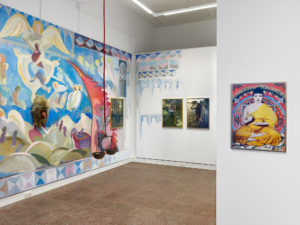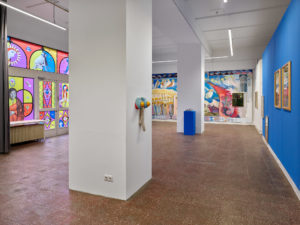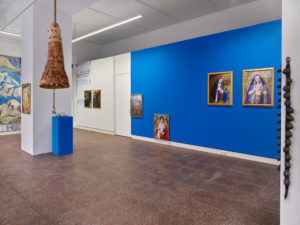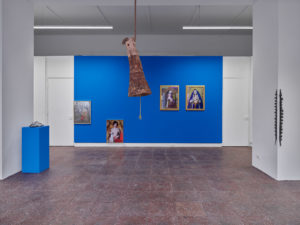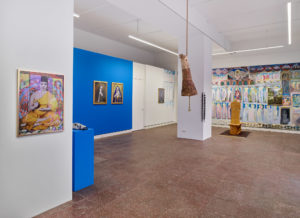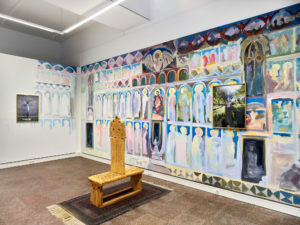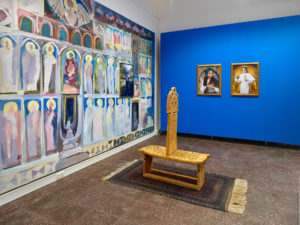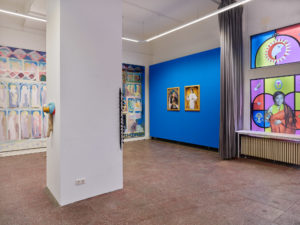 Confessionale
Viviana Druga in collaboration with Tiberiu Bloanca
15 March–5 May 2019
Galerie im Turm
curated by Lena Johanna Reisner and Sylvia Sadzinski
In Confessionale, Viviana Druga investigates religious and spiritual rituals, forms of confession and purification, and the sacred in general. Inspired by the imagery of the Romanian Orthodox churches, iconostases and large-format installations carry out a specific connection to a performative aesthetic. Galerie im Turm is transformed into an imaginary chapel. An open confessional stool serves as the central sculptural work, through which conventional understandings of guilt and atonement are negotiated. Visitors are invited to make – or listen to – a confession.
What do rituals mean in contemporary environments? What status is the sacred afforded? What potential does the act of confessing hold for overcoming personal and collective traumas? How might "the confession" – when severed from a patriarchal power hierarchy – be reinterpreted and appropriated?
Confessionale draws on playful forms of communication, addressing experiences of guilt, shame, trauma, and healing. Using performative and iconographic strategies, Galerie im Turm becomes a temple of transformation and a site for reflection, but also for the shared reinterpretation of religious forms.
Events
14/03 | 7–11 pm
Opening with Game of Confessions
Mercury Consultations
Meet the artist and make a confession
Wednesdays 03/04 | 10/04 and 17/04 | each 6–9 pm
Mercury Visitations
Viviana Druga receives a performative visit
20/03 | 7–9 pm
Artist Talk with Viviana Druga and performer and writer Samantha Jayne Williams
24/04 | 7–9 pm
TIGABI–a performative ritual by Yuval Galili in collaboration with Brandon Rosenbluth and Beate Kaulitz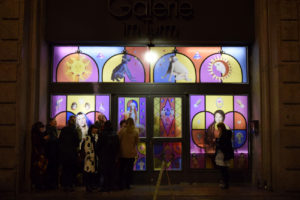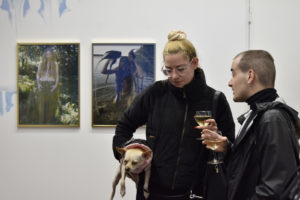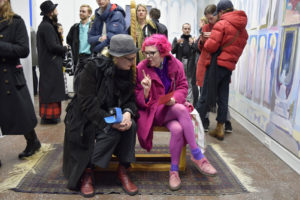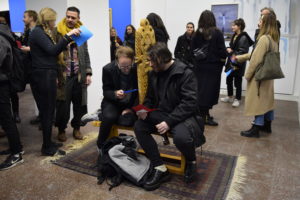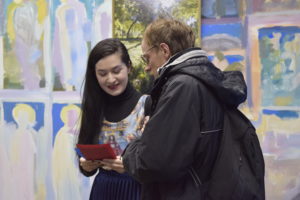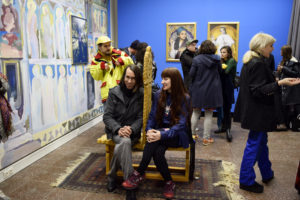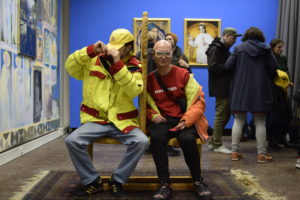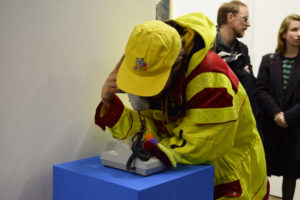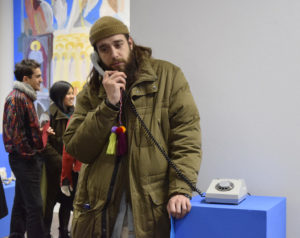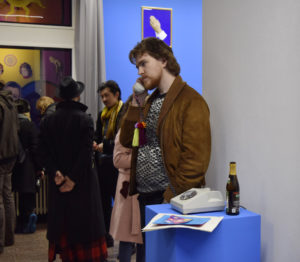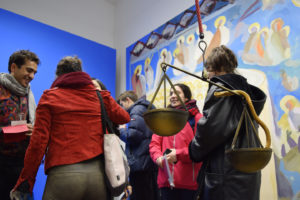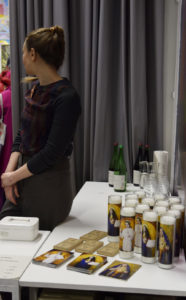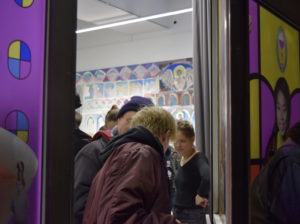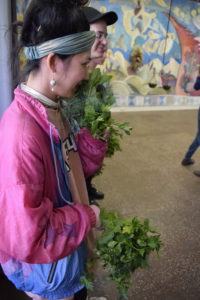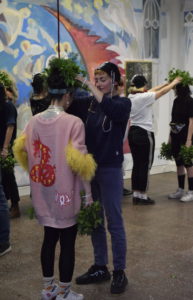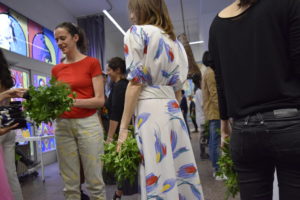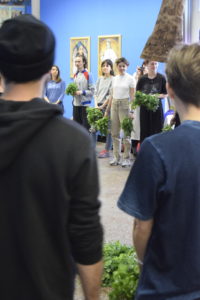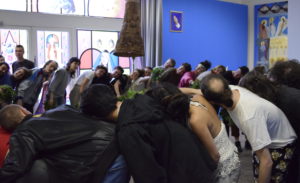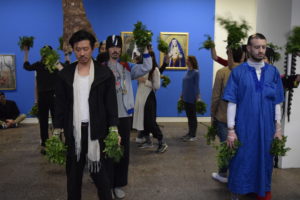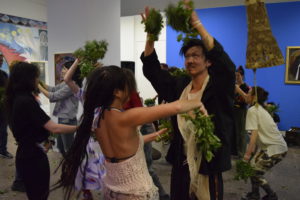 24/04 | 7 pm
Mercury Visitation
TIGABI
Yuval Galili in collaboration with Brandon Rosenbluth and Beate Kaulitz
Some of the most prominent forms of self-experience in contemporary Western culture are designed by digital media, which largely rely on visual perception and facilitate the maintenance of social relations through texts and images. With TIGABI Yuval Galili, in collaboration with Brandon Rosenbluth and Beate Kaulitz, seeks to counteract the predominance of the visual mind and abstract forms of relating to reconnect with the physical realm. In reaction to Viviana Druga's series of Mercury Consultations TIGABI proposes a therapeutic group-ritual, focusing on kinesthetic, tactile, olfactory, and sonic experiences. While taking inspiration from different forms of body therapy, Grinberg Method, Alexander Technique, shamanic cleansing rituals and forest bathing, it serves to uncover our capacities for self-healing and open up to a biophilic mindset. What potential do rituals hold for communities living in a contemporary urban environment?
Yuval Galili is an artist, performer and facilitator based in Berlin. He studied Fine Arts at Bezalel Academy, Jerusalem, and Cooper Union, New York. In his performances and happenings Galili works against the division between active and passive agents, performative bodies and audiences to create meaningful, horizontal encounters. His current practice is a body-based research focused on the contact points of art with dance, therapy, communication and nature. He has realized projects at HaYarkon19 Gallery and the Shapira Neighborhood Community Center, Tel Aviv; Art Cube, Jerusalem; Arena Club and The Workshop Gallery, Berlin, and has been touring as performer at festivals and clubs in China, Austria, Germany and Israel.
TUUM is Brandon Rosenbluth, one half of the shamanic electronics duo Shaddah Tuum, and co-founder of the Berlin-based label collective Portals Editions. He holds a BA from Bard College in Integrated Arts (2008), and was a guest student at HfG Karlsruhe and UdK Berlin. Rosenbluth was trained as a drummer since the age of 7 and had the good fortune to study with Pauline Oliveros and Maryanne Amacher. Most recently he has been learning throat singing and Dhrupad singing which he employs in his performances with Shaddah Tuum, including CTM Festival, Bozar Electronic, Les Urbaines, and Ritournelle, as well as in performances with Mariechen Danz at the Centre Pompidou (2016) and Venice Biennale (2017). TUUM's sets are a total immersion in alternate realities of sound, body and mind – psychonauts welcome.
TIGABI
A performative ritual by Yuval Galili
Co-host: Beate Kaulitz
Co-creators: Mikkel Mallow, Anna Fitoussi
Live music: Brandon Rosenbluth
Accessory design: Greta Coray