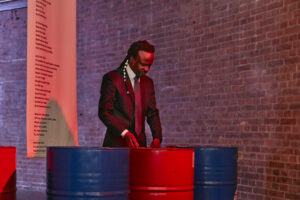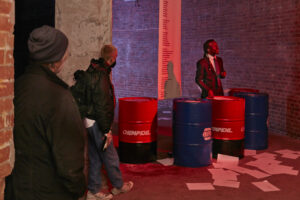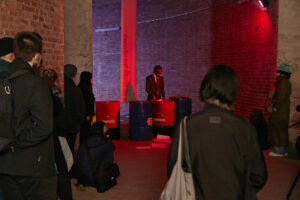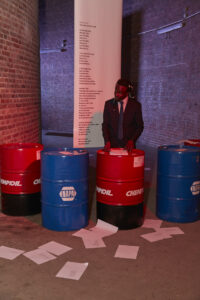 Fossil Experience
Ayọ̀ Akínwándé, Monira Al Qadiri, Kat Austen, Marjolijn Dijkman, Rachel O'Reilly
with poetry by Róža Domašcyna, Ibiwari Ikiriko, and Julia Spicher Kasdorf, as well as further contributions from Christopher Basaldú, Caroline Breidenbach (wasserstories), Ayasha Guerin, Fossil Free Berlin, Fossil Free Culture NL, Rebecca Abena Kennedy-Asante (Black Earth Kollektiv), Klimaneustart Berlin, Anna Lena Kronsbein (Leibniz-Institute of Freshwater Ecology and Inland Fisheries), Maike Majewski (Transition Town Pankow), Elske Rosenfeld, Liz Rosenfeld & Dasniya Sommer, Esteban Servat, Sumugan Sivanesan (Black Earth Kollektiv), The Driving Factor (Elisa Bertuzzo, Daniele Tognozzi, Neli Wagner), Wassertafel Berlin-Brandenburg (Heidemarie Schroeder), and Philine Wedell (Senate Department for Economics, Energy and Public Enterprises).
07/04–19/05/2022
An exhibition and program by Prater Galerie curated by Lena Johanna Reisner with curatorial advisor Sonja Hornung
VENUES:
Großer Wasserspeicher
Belforter Straße, 10405 Berlin
Kleiner Wasserspeicher
Diedenhofer Straße, 10405 Berlin
and Schankhalle Pfefferberg
Schönhauser Allee 175, 10119 Berlin
The exhibition Fossil Experience and its accompanying program addressed a number of the widely divergent – and in part violent – realities generated by the use of fossil fuels. The wealth accrued by specific social groups, nation states, and corporations by means of fossil fuels is inseparable from the ecological disasters at the sites where they are extracted, processed, and transported. In regions with high levels of energy consumption, including post-industrial urban centres such as Berlin, fossil energy and petroleum-based products are ubiquitous. A large part of electricity provision continues to be dependent on fossil infrastructure. At the same time, greenhouse gas emissions, toxic waste, and environmental damage arising from the production, transport, and burning of fossil fuels continue to be overlooked, or are downplayed by powerful institutions.
This meant, for example, that in 2022, natural gas could be labelled as sustainable by the European Commission, despite its negative climate impact. This classification encourages investment in the expansion of fossil fuel infrastructure, even as environmentally friendly, renewable energies are urgently called for. In the name of energy security, investments have recently been announced for the construction of terminals for the import of Liquified Natural Gas (LNG) in Germany. Increased demand for LNG on the international market drives the worldwide expansion and deregulation of hydraulic fracturing (fracking), an extremely environmentally damaging technology. The excessive use of fossil gas is connected with countless uncomfortable truths that must be named and acknowledged, including the fact that the European West continues to co-finance Russia's invasion of Ukraine through its dependency on fossil gas imports.
The notion of fossil experience points, on the one hand, to the experience of acceleration made possible by the widespread availability of cheap energy, particularly in the second half of the twentieth century. On the other hand, it refers to the traumas of extraction, exposure, and displacement, which threaten to further escalate as climate change progresses. The emphasis on the notion of "experience" underscores the fact that fossil energy and petrochemical products do not only exist "outside" of us or "elsewhere": everybody has a fossil experience and in a global net of trade relations, resource extraction, production, and speculation, countless places and existences are connected to one another.
Fossil experience also bleeds into the long-awaited energy transition as, in the guise of a supposedly green capitalism, this transition is instrumentalised by a number of corporations to continue maximising profits. But it is neither sufficient nor acceptable to greenwash energy technologies that simply repeat dubious extractivist logics. Climate change and environmental devastation can only be addressed by centering demands for social and ecological justice, including environmental reparations.
Fossil Experience slowed down prevailing narratives about the energy transition, and investigated the legacy and scope of ongoing fossil fuel dependency. Located in a former water reservoir, the exhibition brought together artistic works and stories about geographies affected by the speculation and resource extraction involved in energy production. The exhibited works offered insight into the tight relationship between the capitalist growth imperative and ongoing colonial logics in relation to fossil energy sources. They focused on the wide-reaching consequences for interdependent human and more-than-human ecosystems, and acknowledged the political movements that advocate for their protection. Resonating with the former function of the site, the exhibition constantly returned to the threat posed by large-scale industrial projects to bodies of water.
Fossil Experience recognised that fossil infrastructures and energy politics continue to financially enrich specific social groups, nation-states, and companies. Concerned for the health of human and more-than-human ecosystems, the exhibition addressed experiences of violation and vulnerability caused by fossil realities which, if unchecked, will continue to call organised life on the planet into question. In doing so, the exhibition pointed towards aesthetic strategies in the representation of these realities as well as their possible undoing.
PROGRAM
Performances
22/04/2022, 6–10 pm
Exhibition opening with a performance by Liz Rosenfeld & Dasniya Sommer and a poetry reading by Ayọ̀ Akínwándé, in-person event, Großer Wasserspeicher
30/04/2022, 6–8 pm
Performance evening
Elske Rosenfeld Statements for the Future and Kat Austen This Land is Not Mine, in-person event, Kleiner Wasserspeicher
07/05/2022, 5:30-8 pm
Workshop with Kat Austen
Participatory Artistic Research: Exploring Airborne Microplastics, in-person event, in English language
Panel discussions
07/04/2022, 7–9 pm
#1 Local Action for a Climate Neutral, Post-Fossil City for All!
GUESTS: Fossil Free Berlin, Klimaneustart Berlin, Philine Wedell (Senatsverwaltung für Wirtschaft, Energie und Betriebe), MODERATION: Maike Majewski (Transition Town Pankow), in-person event, Schankhalle Pfefferberg, in German language
05/05/2022, 7–9 pm
#2 "Does this seem like a desert to you?"
GUESTS: Caroline Breidenbach (wasserstories), Anna Lena Kronsbein (Leibniz-Institute of Freshwater Ecology and Inland Fisheries), Wassertafel Berlin-Brandenburg, MODERATION and CO-CURATION: The Driving Factor (Elisa Bertuzzo, Daniele Tognozzi, Neli Wagner), in-person event, Schankhalle Pfefferberg (Loft), in German language
12/05/2022, 6–8 pm
#3 Fossil Gas Is Not Clean
GUESTS: Christopher Basaldú, Rachel O'Reilly, Esteban Servat, MODERATION: Sumugan Sivanesan (Black Earth Kollektiv), online event, English language
19/05/2022, 6–8 pm
#4 Entanglements of Social, Ecological and Climate Justice
GUESTS: Ayọ̀ Akínwándé, Rebecca Abena Kennedy-Asante (Black Earth Kollektiv), Fossil Free Culture NL, MODERATION: Ayasha Guerin, online event, English language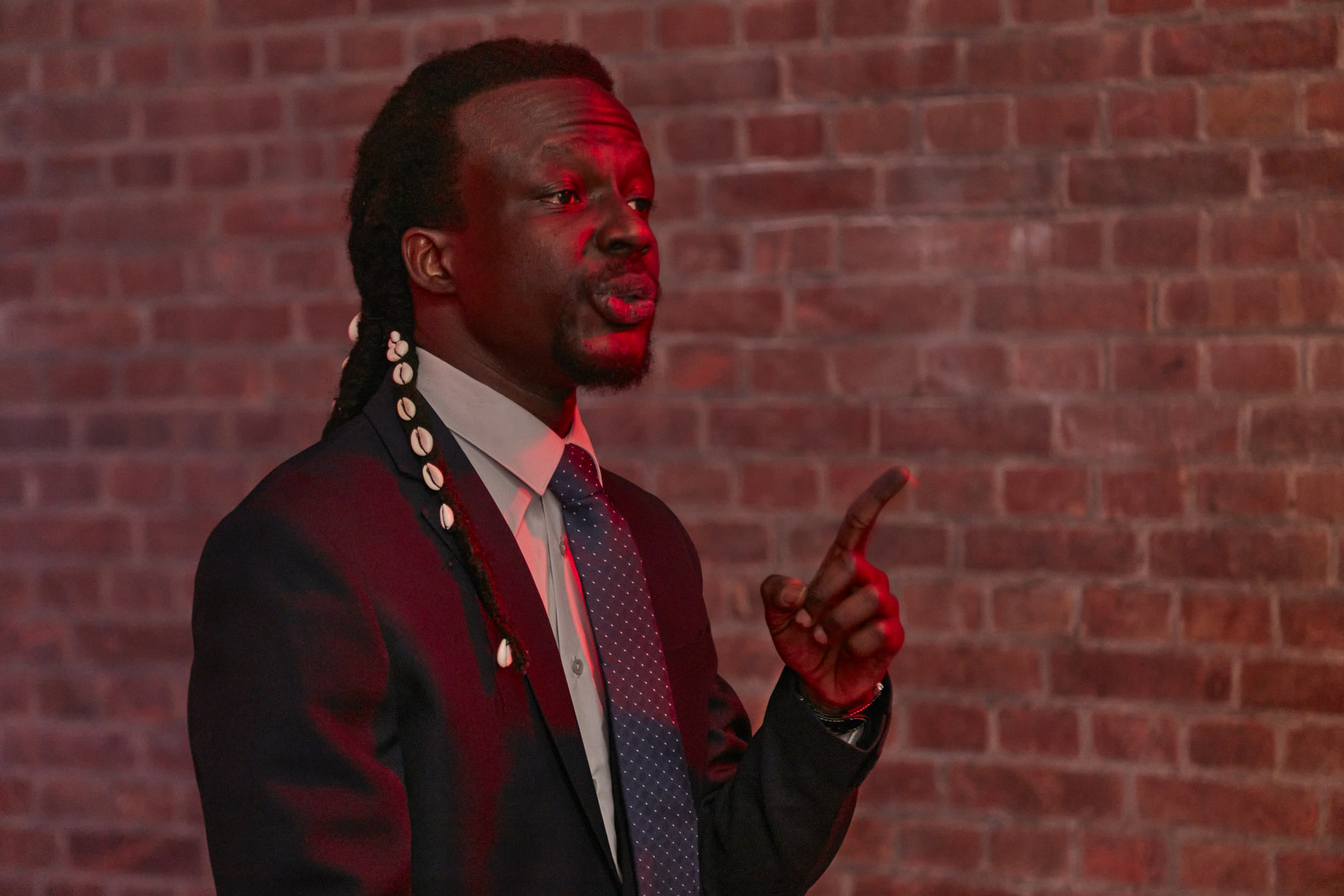 Performative reading by Ayọ̀ Akínwándé:
Ibiwari Ikiriko, Oily Tears of the Delta, 2000
In his video performance Ogoni Cleanup, which was on view in the exhibition Fossil Experience, Ayọ̀ Akínwándé attempts to clean up a river course in the Niger Delta with his bare hands. The area has been scarred by more than half a century of oil production, leaving behind environmental damage of ecocidal proportions. The presence of the oil-producing industry, the pollution of water, air and soil, and the serious human rights violations carried out by state actors and companies like Royal Dutch Shell represent recurrent themes in contemporary Nigerian literature. Published in 2000, the poetry collection Oily Tears of the Delta by Ibiwari Ikiriko bears witness to the Delta's despoiling, and calls for concrete action to be taken to address the wanton destruction and neglect of the region. In a performative reading during the opening of Fossil Experience, Ayọ̀ Akínwándé read through Ibiwari Ikiriko's poetry collection Oily Tears of the Delta from beginning to end.
Performance by Liz Rosenfeld and Dasniya Sommer, assisted by Fungi Phuong Tran Minh
Material Ways, 2022
In their durational performance Material Ways, Liz Rosenfeld and Dasniya Sommer deepen their established relationship with the practice of bondage, raising questions relating to physical burnout and the expulsion of energy. The performance connects the slowness of Shibari practice with the conversion and decomposition of material containing hydrocarbons, including dead plants. Shibari, a Japanese bondage technique, traditionally calls for larger bodies: the interaction between fleshiness and plant-based jute ropes is considered to produce valuable images. Rosenfeld and Sommer merge their creative strategies regarding the abundance of flesh (Rosenfeld) and the material relationship between ropes and bodies (Sommer), pushing the energetic sustainability of one another's boundaries and exploring the puissance of the fleshy body. In acknowledgement of the many capitalist realities in which materials and bodies are constantly pushed beyond exhaustion, Sommer carefully works towards sculpting Rosenfeld's body into full Shibari suspension, evoking the delicate precarity of human and more-than-human existence.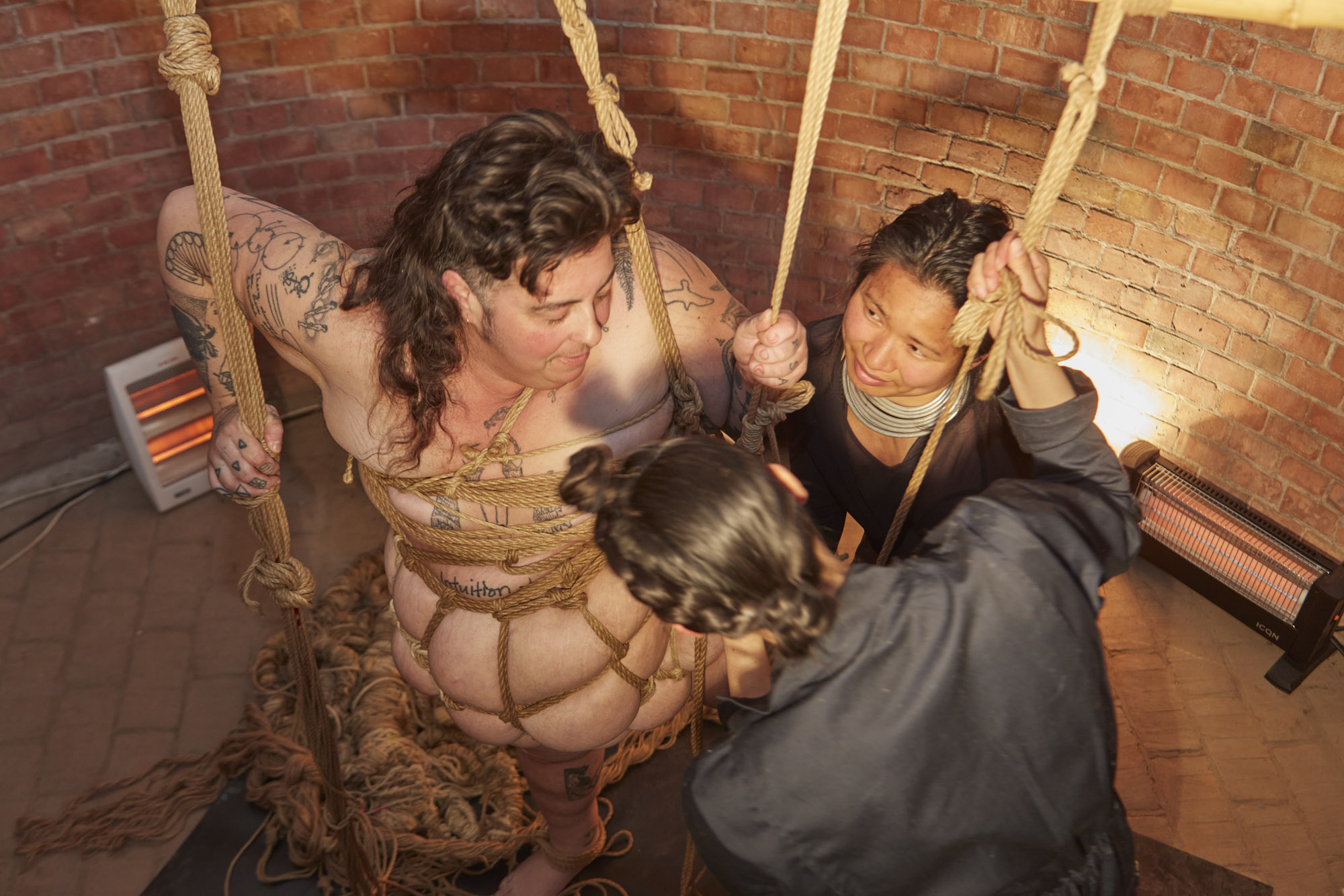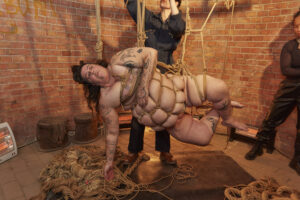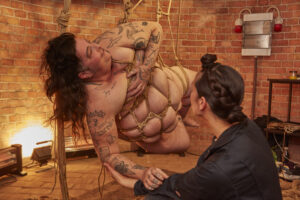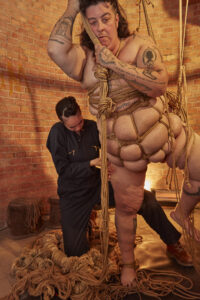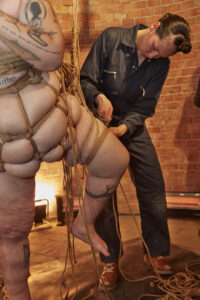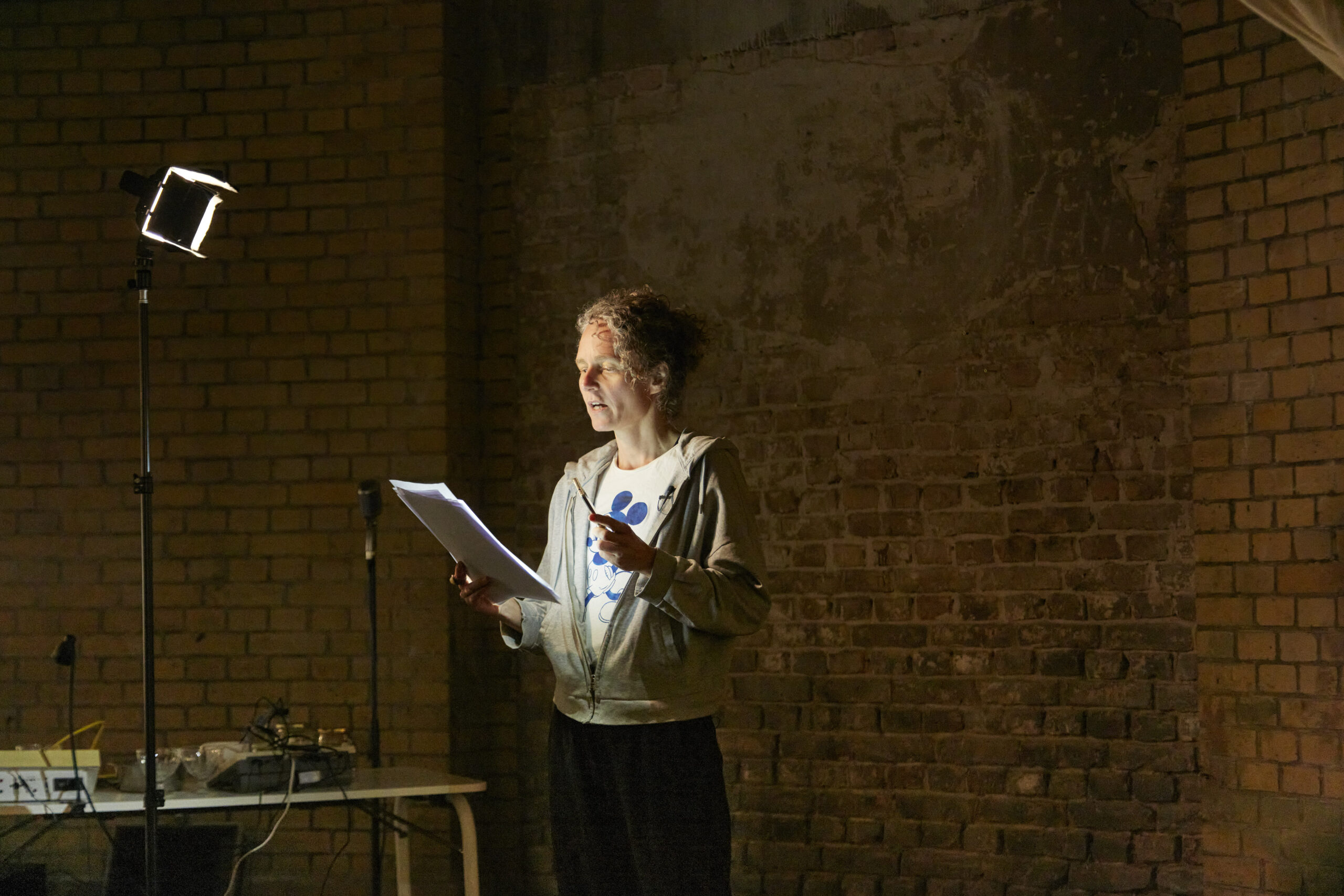 Elske Rosenfeld
Statements for the Future, 2019/22
Statements for the Future is a 15-minute statement assembled from declarations, manifestos, and lists of demands put forward by working groups and individuals, dissidents, artists and cultural workers, labour unions, women's groups, as well as gay and lesbian organisations in the autumn and winter of 1989/90. It was first performed on November 9, 2019, the 30th anniversary of the Fall of the Berlin Wall, at Sala Omnia, a former assembly space of the Romanian Communist Party in Bucharest. Performed again in the "Kleiner Wasserspeicher" (small water reservoir) of Berlin-Prenzlauer Berg, the work offered insight into a specific historic moment and situated the dissident history of the Prenzlauer Berg neighbourhood within an Eastern European post-socialist context. Many of the demands put forward in 1989/90 speak to present-day issues – including environmental issues – bringing forward continuities of collective organising in moments of transformation.
Kat Austen
This Land is Not Mine, 2021
This Land is Not Mine is a multimedia project that includes an audiovisual installation and a music album with seven songs composed by Berlin-based artist Kat Austen. Realised over the course of two years, This Land is Not Mine melds acoustic and electronic sounds with field recordings in homage to Lusatia, a landscape at the German-Polish-Czech borders that has been ravaged by open cast mining. A modern-day protest album, This Land is Not Mine tells stories about villages lost to the past, rivers harbouring secrets and communities that rebuild in the wake of mine closures. During her performance in "Kleiner Wasserspeicher" (small water reservoir), Kat Austen played the entire album, overlaying it with sounds generated from local water samples using adapted scientific instruments. Video projections contextualised the soundscapes and created an immersive journey through contemporary Lusatia.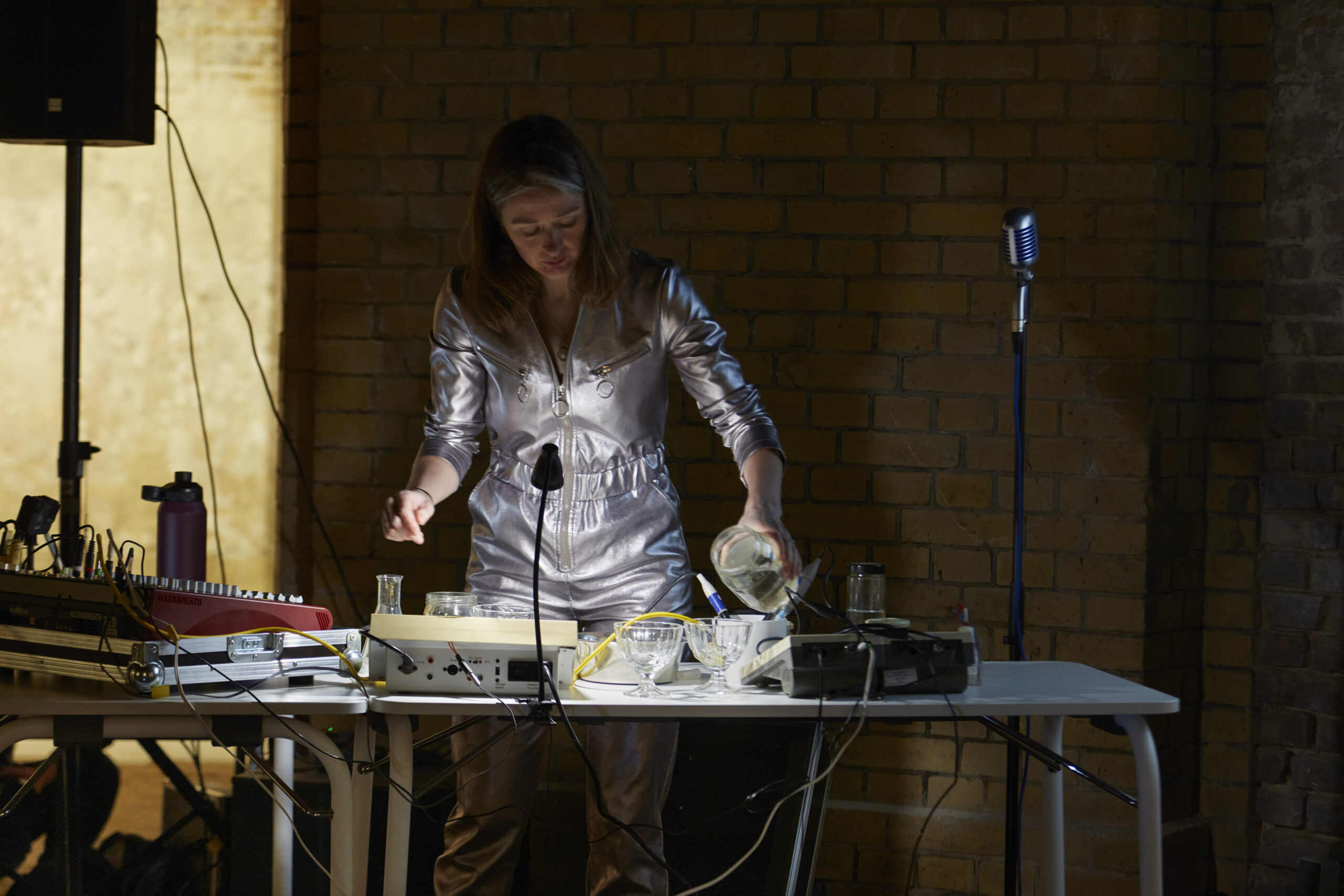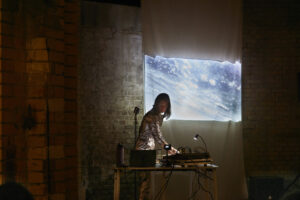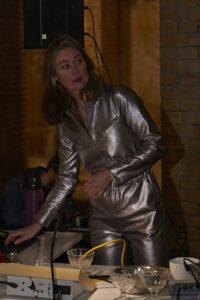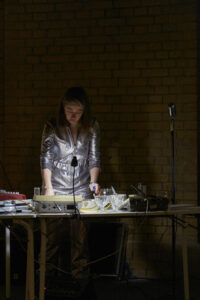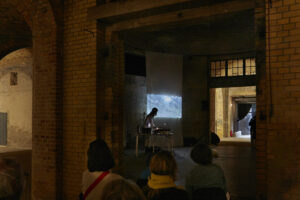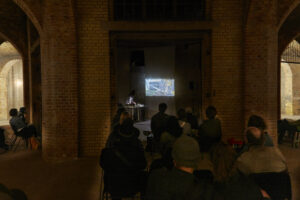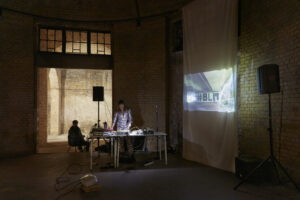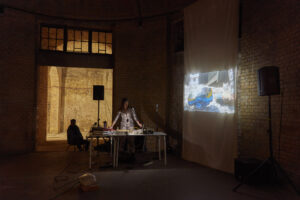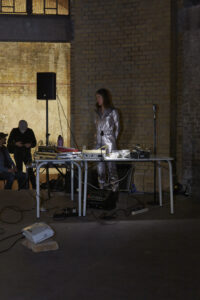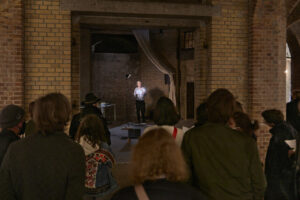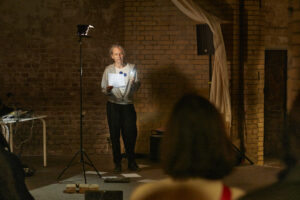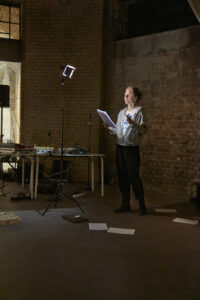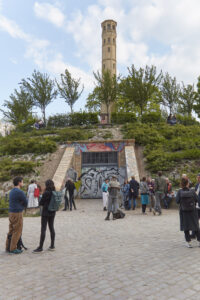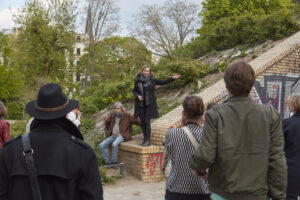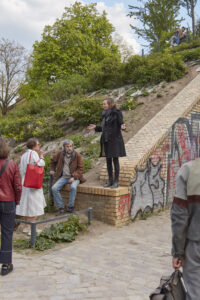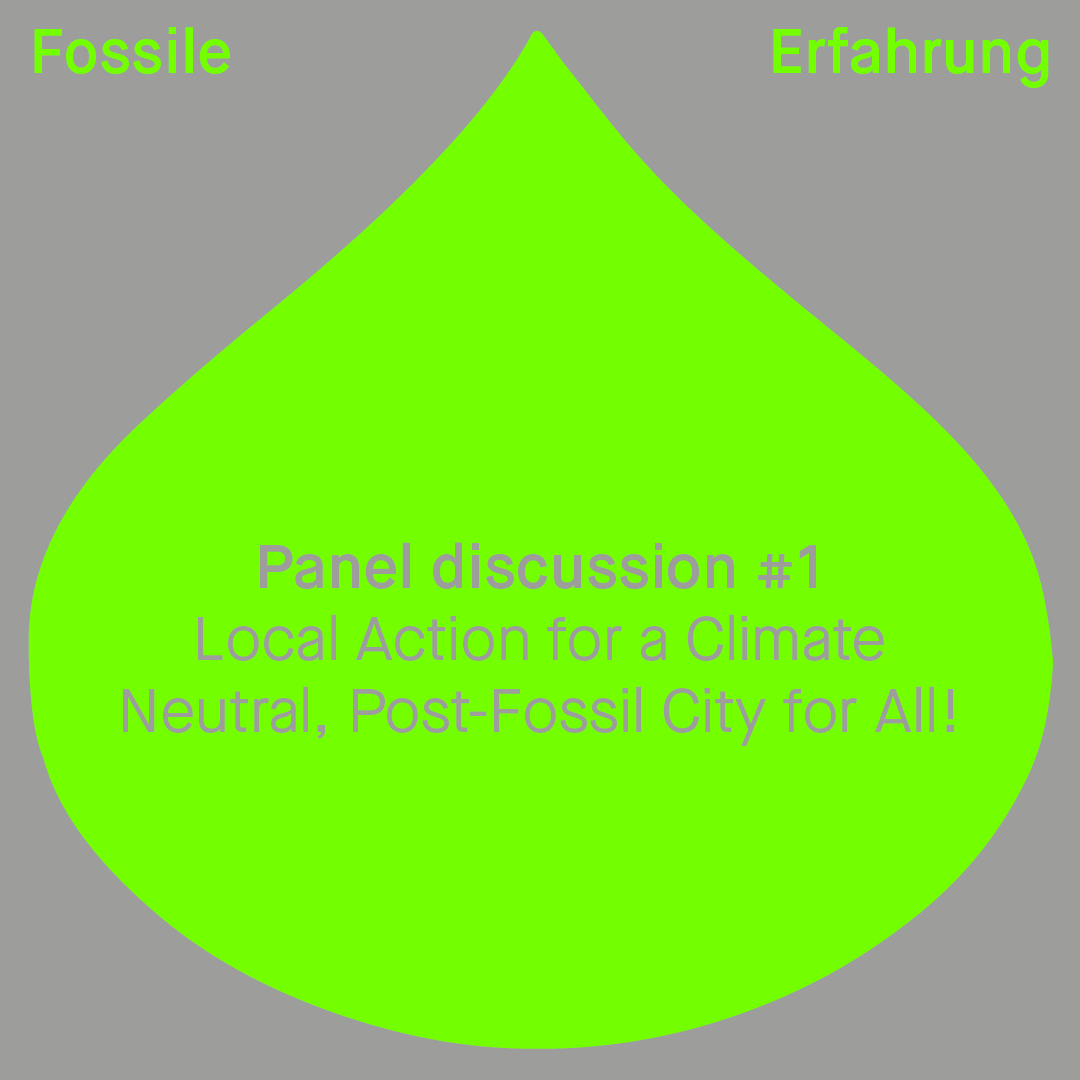 Panel discussion
#1 Local Action for a Climate-Neutral, Post-Fossil City for All!
GUESTS: Fossil Free Berlin, Klimaneustart Berlin, Philine Wedell (Senate Department for Economic Affairs, Energy and Industry), MODERATION: Maike Majewski (Transition Town Pankow)
In August 2019, Pankow's local city council (BVV) declared a climate emergency in the municipality – which is also where Prater Galerie is located. Acting at a point in time when the climate debate became a central issue in Germany during the heatwave of 2019, the BVV followed the example of numerous cities and municipalities worldwide. That summer, the Initiative for Climate Emergency Berlin (Volksinitiative Klimanotstand Berlin) also handed over a petition with 36,458 valid signatures supporting the declaration of a climate emergency. The Berlin Senate decided to declare a climate emergency in December of the same year, renewing its commitment to the Paris Agreement's goal of limiting global warming to 1.5°C above pre-industrial levels.
Climate change is a global phenomenon that plays out very differently at the local level, affecting ecosystems and people worldwide in unequal ways. It represents a global challenge because neither extreme weather events, nor species extinctions, nor infectious diseases stop at state borders. Even the rise in temperatures that is now already unavoidable is going to drastically change the conditions for living organisms and forms of human social life. Locally-caused emissions have an impact on the global climate system, connecting distant places through the principle of cause and effect, and this bears on questions of climate justice. In particular the industrialised nations of the Global North, which historically have caused the highest emissions and profit most from globalisation, are called upon contribute to the mitigation of climate change and environmental destruction. The necessary transformation must be planned and consistently implemented at the federal, state, city and municipal levels.
The first panel discussion of the events program for Fossil Experience considered how a full commitment to climate justice and adherence to the 1.5°C limit will be implemented on a local level, and what consequences this will entail. What has been done since the climate emergency was declared in 2019? What structural changes in terms of infrastructure, energy provision, and transport must be implemented in Berlin, and which stakeholders are driving for such changes? How can the transformation be financed while ensuring that housing is affordable for all? How might art and culture contribute to the development of a post-fossil and sustainable city?
Fossil Free Berlin is a local group of volunteer-based and experienced campaigners. As a part of a worldwide network of over 1,300 Fossil Free groups located on all continents, they advocate for divestment in order to prevent climate change. Divestment is the opposite of investment. Money (for example from shares, mixed funds, and index funds) is consciously withdrawn from companies with undesirable or harmful business models so as to pressure them to change.
Klimaneustart Berlin is a civil movement that emerged out of the Initiative for Climate Emergency Berlin (Volksinitiative Klimanotstand Berlin). It acts as a platform and network to facilitate horizontal exchange between civil society, science, and politics. It is currently planning a referendum on the reform of the Berlin Energy Transition Law (Berliner Energiewendegesetz). This will secure enough scope for action to achieve the necessary reduction of greenhouse gas emissions. It will also define a timeline for these changes. The referendum's central demand is the reduction of the timeframe in which climate neutrality is to be achieved from 2050 to 2030. Present measures are simply not adequate for making the requisite contribution to maintaining the 1.5°C limit.
Maike Majewski is an environmental educator and has coordinated the Transition Town Pankow network since 2011. All around the world, but adapted to local conditions, Transition initiatives use "hands, hearts and minds" to test out how people can live more sustainably and better together. In doing so, they are guided by the principles of permaculture: caring for the earth, caring for others, self-care, and the fair distribution of harvests and resources. In the face of today's ecological and social crises, Transition Town initiatives help to shape the inevitable change with understanding, compassion and practical action – in conjunction with many other civic movements of course.
Philine Wedell is responsible for the Masterplan Solarcity Berlin: Solar energy has a significant renewable energy potential for Berlin. The Masterplan Solarcity demonstrates how Berlin can generate 25 percent of its power needs with solar power. To achieve this goal, solar installations with a capacity of at least 4,400 megawatts will be installed on the city's roofs. The Senate Department for Economic Affairs, Energy and Industry, and its coordination office Masterplan Solarcity have been managing the implementation of the master plan since 2020 and are the first point of contact for all those involved.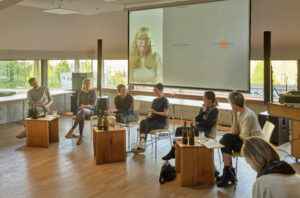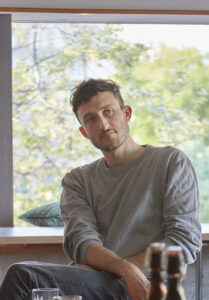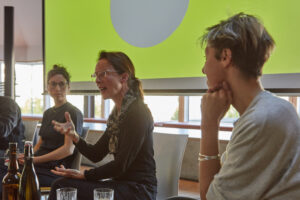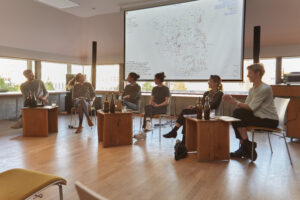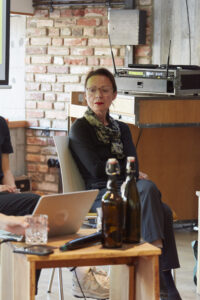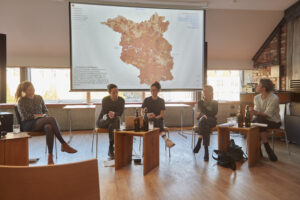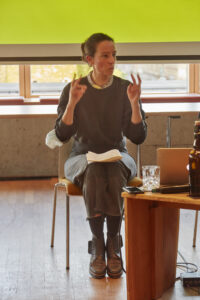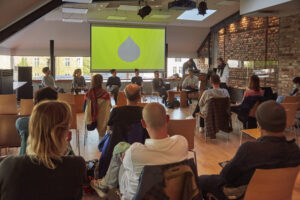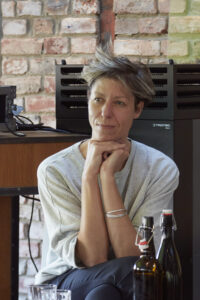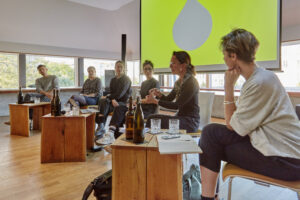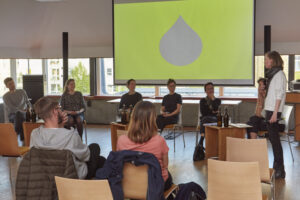 Panel discussion #2
"Does this seem like a desert to you?"
GUESTS: Caroline Breidenbach (wasserstories), Anna Lena Kronsbein (Leibniz-Institute of Freshwater Ecology and Inland Fisheries), Wassertafel Berlin-Brandenburg (Heidemarie Schroeder), MODERATION and CO-CURATION: The Driving Factor (Elisa Bertuzzo, Daniele Tognozzi, Neli Wagner)
The shift to battery-powered forms of mobility and transport is considered to be a key step in the transition from fossil-based to renewable energy sources. Nation-states and regions today compete to attract investments that will expand electromobility products and infrastructure. Berlin-Brandenburg is no exception. In late 2019, Elon Musk, CEO of Tesla, announced that the fourth "Gigafactory" will be built in Grünheide, located just kilometres from the outskirts of Berlin in a water conservation area. With 20 concessions made to allow for an early start for construction, the factory was completed before the application documents and the objections raised against them could be thoroughly examined. Residents, scientists, activist groups and Berlin's water utilities management are deeply worried about the impact the factory will have on local water cycles and the quality of drinking water. On March 22, 2022 – World Water Day, of all days – the first battery-powered SUVs rolled off the production line.
"Does this seem like a desert to you?" was Elon Musk's scornful response when asked about the impact of his factory on local water supplies during a site visit in August 2021. Berlin-Brandenburg is indeed no desert. And yet, despite its noticeable abundance of surface water, it is among the regions with the lowest precipitation in Germany. Elon Musk's desert comparison simplifies and trivialises a far more complex set of problems. Lakes are sinking and groundwater – which supplies drinking water – is at an all-time low. A recent study from the Leibniz Institute of Freshwater Ecology and Inland Fisheries demonstrated that water quality is already compromised by high levels of sulfites and trace organic compounds due to historic and ongoing industrial and consumer activity. Coupled with spikes in demand due to urbanisation and population growth, climate-change-induced pressure on an already-polluted water system brings with it real consequences for human and more-than-human organisms.
Tesla is a profit-oriented player that self-styles as being, in its own words, "driven by sustainability". Yet here, the third largest car assembly factory in Europe seems set to threaten the water quality – and water supply – for a major metropolis. How will this affect the region's ability to adapt to the ongoing rise in temperatures due to climate change? In this panel, representatives from the scientific community and the local action group Wassertafel Berlin-Brandenburg shed light on how resistance to the industrial project has formed. How can scientific research become instrumental in the protection of endangered ecosystems? Who shapes the debate about water scarcity and pollution in Berlin-Brandenburg and how – particularly in relation to Tesla's "Gigafactory" and its assumed role in the energy transition?
Caroline Breidenbach uses tools of visual design to communicate about socially relevant topics. Her interactive web documentary wasserstories provides critical information about issues of water privatisation and the water crisis more at large. Including elements of docu-fiction as well as substantial research into cases of water scarcity and conflict, wasserstories addresses a universal question: Who owns the water? Caroline Breidenbach earned her master's degree in visual communication at the Weißensee Academy of Art in Berlin in 2019 and a Meisterschüler:innen degree in December 2021.
Anna Lena Kronsbein (MSc Environmental Toxicology) is currently working for her doctorate at the Leibniz Institute for Freshwater Ecology and Inland Fisheries (IGB) on the behaviour of pollutants in water ecosystems. Her research focuses on the effects that the invasive quagga mussel have on the degradation and transformation of trace organic compounds (e.g. pharmaceuticals), which are insufficiently retained in sewage treatment plants. Anna Lena Kronsbein is co-author of a scientific assessment on the siting of large-scale industrial projects in water-scarce areas, which the IGB published in August 2021 in view of the controversy surrounding the "Gigafactory Berlin-Brandenburg".
Wassertafel Berlin-Brandenburg is an initiative that emerged from local resistance against the Tesla production plant in Grünheide, and the Berliner Wassertisch (Berlin Water Table), which successfully campaigned in the past for the remunicipalisation of Berlin's water service provider. Wassertafel Berlin-Brandenburg is committed to ensuring that water remains a common good, and to this ends it mobilises against the exploitation of water by big industry. In its struggle for water, the initiative acts in solidarity with regions in North, Central and South America, where water as a basis of life is sacrificed for the extraction of raw materials such as lithium or nickel.
The Driving Factor takes the (lithium) battery as an opportunity to critically question the promise of a profit-driven, "green" energy transition. The project, funded by the nGbK Berlin, is about power grids, supply chains and the transformation of social and geographical spaces through resource extraction and accumulation. How can different places be placed in relation to each other to form shared spaces of experience and action? The Driving Factor is a collaboration between practitioners and theorists from the visual arts, visual anthropology and urban sociology whose work deals with environmental policy issues and activist contexts.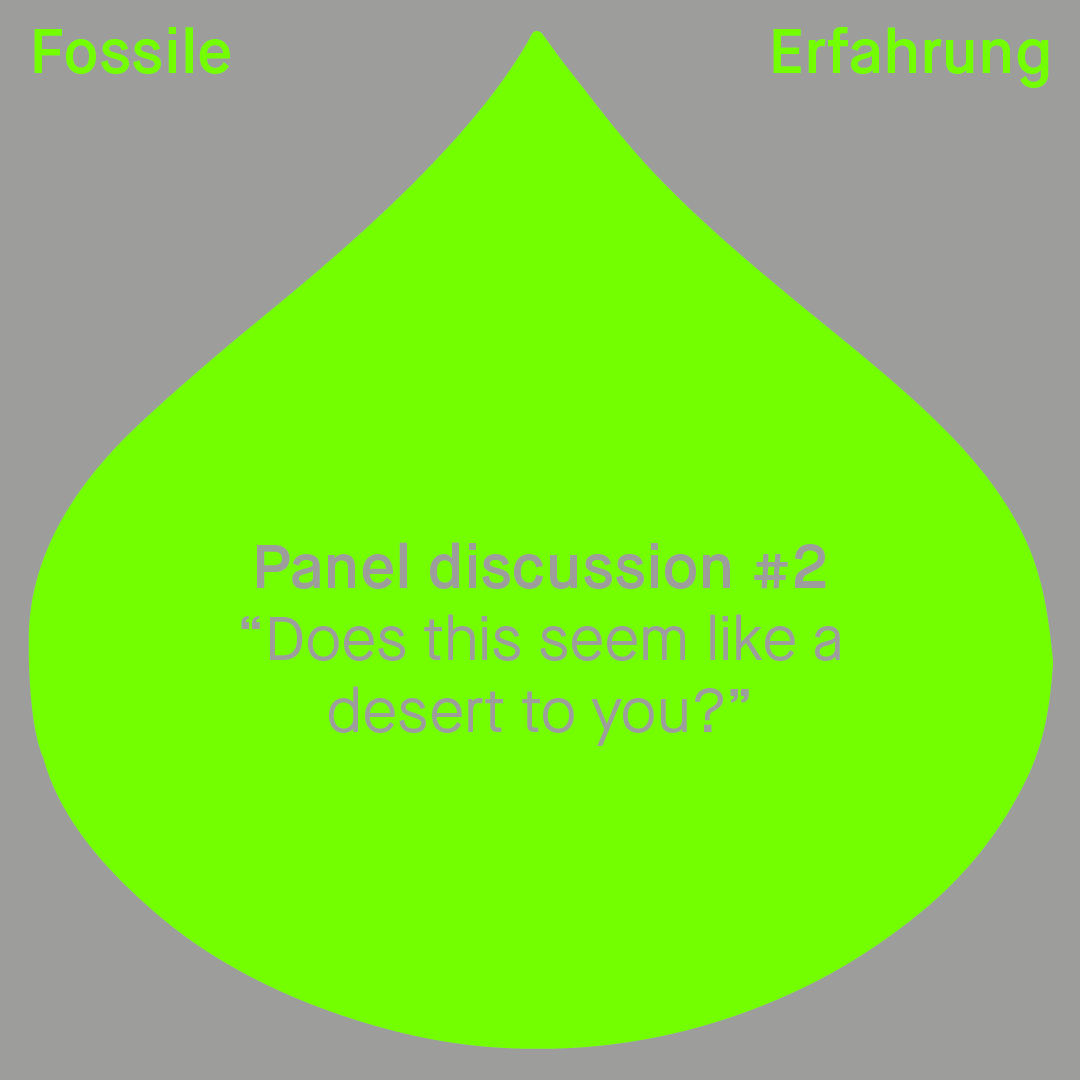 MORE INFORMATION ABOUT PANEL #3 AND #4 WILL BE ADDED HERE SHORTLY.
TEAM
CURATION: Lena Johanna Reisner
CURATORIAL ADVISOR: Sonja Hornung
TEXTS: the curators, artists, and poets
TRANSLATIONS AND EDITING: Gegensatz, Bradley Schmidt, and Anna Förster
GRAPHIC DESIGN: fertigdesign
PRESS AND PUBLIC RELATIONS: Carola Uehlken
PRODUCTION: Carolina Redondo
TECHNICAL TEAM: Claudio Aguirre, Carlos Busquets, Marcos Mangani, Nicolas Matzner, Alberto Sardo, and Studio Kat Austen
TEAM PRATER GALERIE: Katharina von Hagenow, Lena Prents, and Julie Rüter
Thanks to Stefan Bienas, Sebastian Bodirsky, Haus für Poesie, Uli Huemer, Aleksandra Jach, Alexander Klose, Antje Majewski, Sybille Neumeyer, Lee Plested, Steve Shaba (Kraft Books), Anne Szefer-Karlsen, and Kunle Tejuoso (The Jazz Hole).
Fossil Experience was supported by Stiftung Kunstfonds, LOTTO-Stiftung Berlin, and the Senate Department for Culture and Europe, kindly supported by Förderband Kulturinitiative Berlin and Schankhalle Pfefferberg. The presentation of Stranger to the Trees by Kat Austen in cooperation with postgallery.online was supported by Neustart Kultur. Media partners: Berlin Art Link, taz.